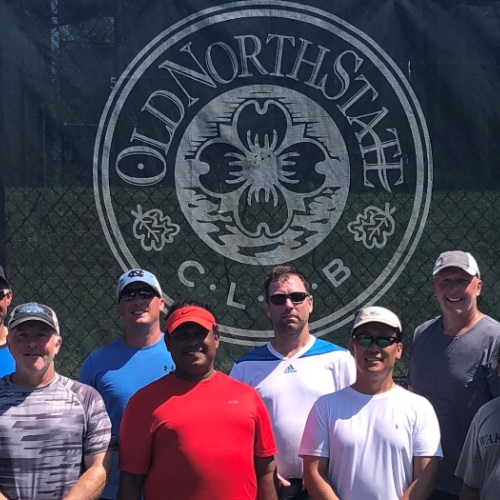 Tennis groups head out of town for competition – but mostly for fun
Being new is challenging. We've all been the new kid at school who wants to meet new people and find his or her place. Well, if you're a tennis player and new to McConnell Golf there's a great way to make friends via the Men's and Women's tennis groups that travel to sister properties for fun weekend getaways.
According to Kyle Thortsen, McConnell Golf director of tennis, Old North State Club has been the most desired destination for both women's and men's trips. In addition to the club's extraordinary tennis and golf offerings, the marina epitomizes fun in the sun. Down time during these trips centers on boating and taking in sweeping views of Badin Lake.
"The men's group has traveled to Old North State, while the women's group has explored both Old North State and Country Club of Asheville."
The groups keep a tight schedule to make the most out of their three-day weekends. On the Friday they arrive, members enjoy a meet and greet round robin to break the ice, which is great for the newcomers. Next, members participate in a clinic to sharpen their skills, followed by a delicious lunch held at the tennis center.
The day on the courts closes with a tournament to challenge each member to the best of his or her abilities. After the thrill of competition and a long day of tennis, the group welcomes a little down time before dinner.
At Old North State this could include hanging out by the pool, boating or watching the sunset lakeside from the club's trademark Adirondack chairs. If the tennis group is at Country Club of Asheville, they can explore the scenic and historic downtown area or venture into Pisgah National Forest's natural beauty.
For Country Club at Wakefield Plantation member Phil Gugliotta one of his favorite memories on one of two tennis trips he's been on is his win during a championship round with his friend Chris Bricker. The two won store credit for their victory! Surrounding Father's Day, he adds, the trips serve as an excellent Dad's retreat.
Gugliotta says, "The trips are a lot of fun because there are all different levels attending, so it is nice to be able to experience different levels of play." He added that they are also a great way for new members to meet people.
He applauds Thortsen and Head Tennis Pro Cory Oliphant for keeping the trips fun and organized, on and off the court.
"I enjoy a round of golf on the Friday we arrive, tennis all day Saturday, and being able to relax with friends," he shares.
The real magic, of course, is how comradery from the courts transitions into recreation. Gugliotta laughs as he recounts one of his funniest tennis trip memories. While boating, the group ran out of supplies. Rather than everyone go back to the dock, one of the men eagerly took the plunge and swam back to restock. Now that's teamwork!
If you're looking to meet new people, take a well-deserved trip, or even tune-up your game, McConnell Golf tennis trips are a great way to do so. From casual round robins to competitive championship matches, all levels are welcome. It's all about coming together and having a great time.