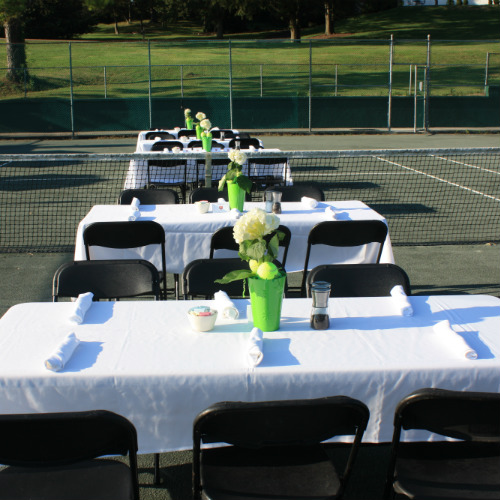 Game, set, dinner!
Exhibition matches have long been a celebrated occasion across the tennis facilities of McConnell Golf; however starting last year, a new twist was added — members can enjoy great food, service, and entertainment right on the court.
"What can be better than dining under the stars while watching local collegiate and professional tennis players compete?" asks Kyle Thortsen, director of tennis operations. "These Dining on the Courts events are a night for the entire family to enjoy."
McConnell Golf's most popular destination property pulled out all the stops for their Dining on the Courts evening, organized by Director of Tennis Chris Callicutt and Executive Chef Michael Monahan. Members received a complimentary drink on arrival, while white tablecloths and upbeat jazz lent a chic ambiance to the Mediterranean themed dinner.
"It was fabulous," exclaims member Rich Miller. "We have a beautiful venue, with the patio and terrace overlooking the court. We enjoyed a professional doubles match, with a relaxed, party atmosphere. It doesn't get much better."